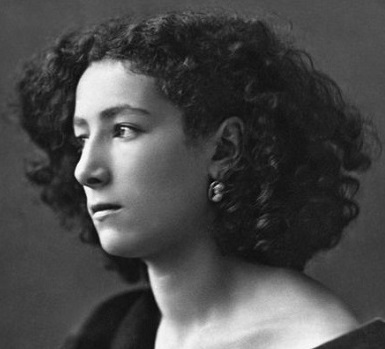 These memoirs could have been entitled:

"It is worth entering life seriously, but cheerfully."

But Sarah Bernhardt, French actress (1844-1923), who liked this maxim by Mr. Auber, her director at the Conservatoire, decided otherwise ... because that is precisely what characterized her: to decide otherwise, to follow her own path; not to go against others, not to run over others, but only to live life to the full and in her own way. Maybe because her fragile health made her think that her life would be short, which finally was not, certainly because she had a strong personality, too strong for some.

Sarah's motto was: "Anyway"

"It was not a coincidence, but the result of a deliberate desire. At the age of nine, I had chosen this motto, after a formidable leap over a ditch that no one could jump at and which my young cousin had challenged me to; I had ruined my face, broken a wrist, ached the body. And while I was being transported, I cried, angrily: "Yes, yes, I'll do it again, if I'm still challenged! And I will do all my life what I want to do!"

Sarah is hardworking but does not let anyone bother her if she decides to sleep for an hour; she is willing to the point of stubbornness; she is stubborn but knows how to listen to sensible or intelligent persons; she is selfish and generous: she lives for herself, but she is also very concerned about the world she lives in; she likes a life full of pleasures, and surrounds herself with beautiful things, but is able to travel in a cattle wagon to find her son; she likes to be adulated by the public, but organizes a hospital in her theater during the Franco-Prussian war of the terrible winter of 1870 where she nurses and feeds hundreds of wounded soldiers. Sarah becomes an actress famous for her talent and her golden voice, and when she makes her life an adventure, the thirty-two people (maid, butler, impresario, actresses and actors) that she takes with her in his American tour, enjoy like her an unforgettable experience in ups and downs, disappointments and wonders.

Sarah is a complex woman, intelligent, inspiring, strong, admirable in my opinion.

What Sarah does not like:

War: she thinks it is a great and macabre stupidity of men.

Death penalty: although she is strong, she fought against her family and her entourage to make herself the place she chose, she is indulgent towards those who have made a mistake and end up on the scaffold: who knows if they were not worth saving?

Meat: she will do, however, in Chicago, a surprising visit ...!

Immobility: she does not visit churches or museums. She rides horseback, drives her own carriage, sails by boat to England or America, travels Europe by train, and even ... surprise!

She does not like that her hair is combed, unceremoniously: her hair is curly, even frizzy, and as indomitable as she is!

Sarah does not like submission neither right-thinking nor politically correct: In a men's world, a woman free of mind and body must be incredibly strong to keep what she loves above all else: her independence.

We learn a lot about this woman apart. But this text does not boil down to that. There are many interesting thoughts and well-turned quotes:

"Hospitality is made of primitive flavor and antique grandeur."

"Life is short, even for those who live long. It is necessary to live for some who know you, appreciate you, judge you and absolve you, and for whom one has tenderness and indulgence. The rest is only the crowd, joyous or sad, loyal or perverse, from which one has nothing to expect except passing emotions, good or bad, but leaving no trace. We must hate very little, because it is very tiring. We must despise a lot, forgive often and never forget. Forgiveness cannot lead to forgetfulness, at least for me."

"... we house in ourselves our most terrible enemy: "thought", which is constantly in contradiction with our actions; which sometimes stands up, terrible, treacherous, nasty, and that we try to hunt without success. We do not always obey it, thanks to God! But it pursues us, insults us, makes us suffer. How often do the worst thoughts attack us! And what a fight must be fought against these girls of our brains! Anger, ambition, vengeance, give birth to the most detestable thoughts, of which we blush like a blemish, which are not ours, because we have not called them, but which defile anyway, and which leave us desperate not to be the sole masters of our soul, our heart, our body and our brain."

It's frank, Sarah is, it has been translated into English:

Sarah is realistic about herself; she knows her qualities; she also knows her faults, does not hide from them, but does not always try to correct them because they made her what she was: an unforgettable woman.