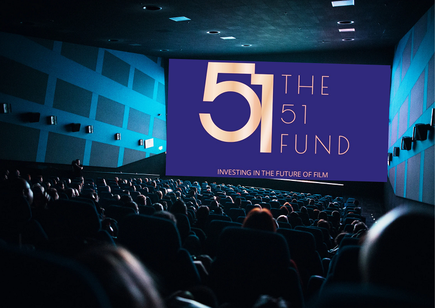 Films by women make more money, but Hollywood isn't making them.
Women have the stories.
Women have the talent. 
Now, let's give women the opportunity.
The 51 Fund is on a mission to give women an equal voice in the entertainment industry. We are a private equity fund financing feature films of any genre that are written, directed, and/or produced by women. Our goal is to provide favorable financial and social returns to investors, while partnering with today's most exciting female creators and filmmakers.
THE 51 FUND team
Lois Scott is a senior finance executive, entrepreneur and civic leader. Lois' functional experience includes financial and business strategy, driving revenue growth and profitability, investor relations, financial turnarounds, and asset and liability management. From 2011-2015, Lois served as the Chief Financial Officer for the City of Chicago, the first woman to ever serve in that capacity. Lois and the City's finance team were responsible for an annual budget of $7.5 billion and assets of $32 billion.
Lindsay Lanzillotta is an independent producer with a distinguished record of supporting filmmakers and discovering new talent. She was lead producer on Candleridge Entertainment's first endeavor with an emerging talented filmmaker, Lee Toland Krieger's THE VICIOUS KIND starring Adam Scott, JK Simmons and Brittany Snow and was an Official Selection of the Sundance Film Festival and was nominated for two Film Independent Spirit Awards for Best Screenplay and Best Male Lead.  Lindsay continues to develop various projects with emerging and established independent filmmakers.
Caitlin Gold has a broad background in developing, producing, valuing, marketing, selling, and acquiring films across all genres and budget sizes. She is the founder of the New York-based development and production company, Tanbark Pictures and a producer.  She has worked in film distribution since 2013 and served as Head of Acquisitions at two distribution companies, Candy Factory Films and Seed&Spark, and managed home entertainment sales at Lionsgate.
Naomi McDougall Jones is an award-winning writer, actress, producer, and women in film activist. Before her second feature film, BITE ME, Naomi also wrote, produced, and starred in IMAGINE I'M BEAUTIFUL. She is an advocate and thought leader for bringing gender parity to cinema. She gave a virally sensational TED Talk, What it's Like to Be a Woman in Hollywood, which has now been viewed over 1 million times. Her book The Wrong Kind of Woman: Dismantling the Gods of Hollywood, is released.
Nivedita Kulkarni is a writer, actress, comedian, and businesswoman. She has written, produced, and acted in comedy shows in NYC since 2009. She has worked as a script reader since 2016. She currently serves as the Founder & President of the non-profit organization the Asian American Script Lab, which develops scripts with Asian American leading characters. She has served as the assistant to the Chief Financial Officer and General Counsel of ViacomCBS Networks International, has worked in Private Equity at Atalaya Capital Management and LS Power. Nivedita founded and runs the company Nuva.io, a networking platform for women in the entertainment industry. Former competitive mathlete, she holds a degree in Marketing & Economics.
gabrielle.dubois.31@gmail.com