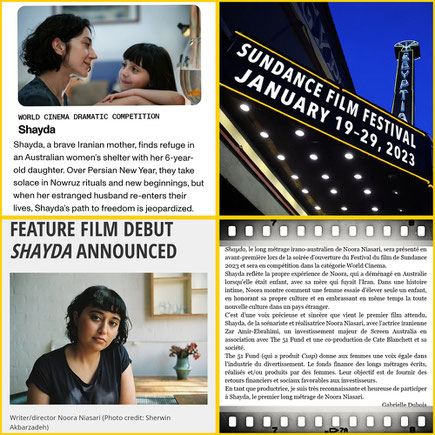 Shayda, the Iranian-Australian feature will be premiering as part of the opening night line-up at the 2023 Sundance Film Festival and will be in competition in the World Cinema category!
Shayda reflects Noora's own experience of moving to Australia as a child with her mother escaping Iran. In an intimate story, Noora shows how a woman tries to raise a child alone, honoring her own culture and at the same time embracing a brand new culture in a foreign country.
From a precious and sincere voice comes the anticipated debut Shayda, by writer and director Noora Niasari, starring Iranian actress Zar Amir-Ebrahimi with major production investment from Screen Australia in association with The 51 Fund and co-executive produced by Cate Blanchett and her company.
The 51 Fund (which produced Cusp) gives women an equal voice in the entertainment industry. The fund finances feature films written, directed, and/or produced by women. Their goal is to provide favorable financial and social returns to investors.
As a producer, I am very grateful and happy to be part of Noora Niasari's feature debut, Shayda.
Gabrielle Dubois