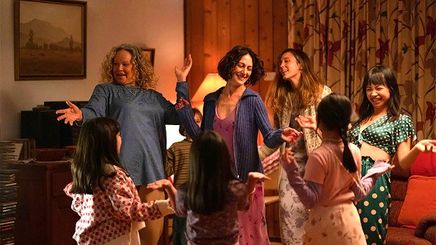 In 2023, wherever it is played, the film Shayda, written, directed and co-produced by
Noora Niasari, is applauded.
Shayda, a brave Iranian mother, finds refuge in an Australian women's shelter with
her 6-year-old daughter. Over Persian New Year, they take solace in Nowruz rituals
and new beginnings, but when her estranged husband re-enters their lives, Shayda's
path to freedom is jeopardized.
A word by Noora Niasari:
"I am in awe of the millions of mothers and daughters fighting for their basic human
rights. This film is dedicated to my mother – who found freedom for herself and for
her daughter in Australia – and the brave women and girls of Iran."
Shayda also produced by The 51 FUND and Gabrielle
Sundance, USA:
Audience Award Winner: World Cinema Dramatic
AUSTRALIA:
MIFF Melbourne International Film Festival
The film Shayda —CinefestOZ— is the 2023 winner of Australia's richest annual
$100,000 Film Prize, which recognises excellence in the craft of filmmaking from an
Australian feature film or feature-length documentary.
Switzerland:
Locarno Film Festival
"Two-time Oscar winner Cate Blanchett, who is an executive producer on Noora
Niasari's debut film Shayda, will not be attending the pic's August 12 closing-night
screening at the Locarno Film Festival out of support for the SAG-AFTRA strike.
Niasari and star Zar Amir Ebrahimi will attend the movie's play at the Swiss fest.
"As executive producer I couldn't be more proud of Shayda, the remarkable debut
feature from Iranian-Australian Noora Niasari, starring the extraordinary Zar Amir
Ebrahimi," Blanchett said in a statement to Deadline. "I celebrate the work of the
whole filmmaking team and am thrilled that the film can be seen at the closing night
of the glorious Locarno Festival next week."
News by DEADLINE
Shayda, one of the Most Anticipated Movies of Fall 2023
"Zar Amir Ebrahimi plays a woman from Iran residing in a shelter in Australia who is
desperate to prevent her estranged husband from taking their child back with him.
Noora Niasari wrote and directed. (Dec. 1 in theaters)"
According to VARIETY
Shayda is an International Oscar Race film:
"The film premiered in Sundance in January. It recently played as the opening film of
the Melbourne festival and at Locarno. It was picked up for North American release
by Sony Pictures Classics and will have its Australian commercial release in October
through Madman."
According to MOVIE WEB 
"I've been able to find a distance from it in sharing it with audiences, "Niasari said of
her global tour of Shayda. We were on the 19th floor of the historic Fairmont Royal
York hotel in a salon that overlooked the downtown core below and the horizon
peeking beyond the skyscrapers. It wasn't hard to feel on top of the world in that
room, the perfect place to talk about a film that has made waves at every festival so
far. "You 're able to slowly let go and embrace the fact that it's not yours anymore —
it's the world's, and that's been really cathartic."
News by if.com.au
Noora Niasari's 'Shayda' submitted for Best International Feature Oscar
"Noora Niasari's Shayda may soon get another chance to represent Australia on the
world stage, after being submitted for the Best International Feature category at next
year's Academy Awards."
Next:
London, UK at the BFI London Film Festival 2023, October 2023