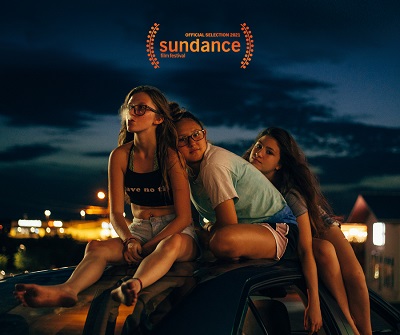 CUSP,
Documentary film premiering in competition at the
SUNDANCE  Festival 2021,
realized par
Parker Hill & Isabel Bethencourt


PRESENTATION

CUSP chronicles one year in the life of "three wild-spirited teenage girls search for freedom and navigate early adulthood as they break away from their past traumas, in a small military Texas town. This raw verité portrait dives down the rarely-seen rabbit hole of modern girlhood, where adolescence clashes with personal agency."

CUSP, the two women filmmakers

Just a few years into their career, Parker Hill boasts a 2016 Tribeca Festival award-winning thesis film and national advertising, Isabel Bethencourt has directed videos for The Wall Street Journal and GQ. For their first feature film, Cusp, the two filmmakers followed three wild-minded Texas girls in their transition to adulthood. It's a familiar subject that the two women treat in a completely new way. The two directors film these American teenage girls as we've never seen them before. It's raw, it's terrible, it's – at last - true. It is a wonderful awareness, the dawn of a new era for all the oppressed, abused, unheard, unseen girls in the world.

CUSP, genesis

It all started in a gas station at 2:30 in the morning.
Parker Hill and Isabel Bethencourt were traveling from Montana to Austin on a mission to photograph the summer of American teenagers. It was their last night, they were doing a last gas fill up before going home. A truck arrived on the parking lot, in a storm, music blaring, and stopped. Four girls came out of it, barefoot, laughing and heckling. Parker and Isabel, the filmmakers, asked if they could take their picture, the girls invited them to swim in a river with friends. After hanging out for a few hours, swimming in the black water and talking about their story, the teenage girls and the two directors became friends. To the surprise of the directors, the girls opened up instantly. The teenage girls had so much to say about their lives that no one had cared before. They were eager to tell their stories, as if they somehow felt forgotten by their town, their schools and their parents.
At sunrise, the girls added the filmakers shared their Instagram accounts, and they split up.

CUSP, behind the meeting

When Isabel Bethencourt and Parker Hill met these funny and spirited girls, they were immediately drawn to their boundless energy and thirst for life - it reminded them of the freedom of their teenage summer nights. As they hung out and photographed the group, the directors were struck by the casualness with which the girls discussed their experiences of being harassed by their male friends. All they talked about was how they had dealt with domestic violence, assaults, and demeaning themselves, while at the same time making these acts seem commonplace, laughing at sexist jokes, and participating in the demonization of other girls.
At first glance, Parker and Isabel were attached to their apparent freedom. But they quickly detected behind the lightness of these teenage girls, their alien and yet familiar tactics of social survival. From experience, the directors knew what it feels like to laugh at hurtful comments and move on to save face. But what would happen if it went further? Isabel and Parker wondered if these girls would continue to bite their tongues and accept their reality for the rest of their lives? Was this starting to have an impact on them? Was it going to make them lose their sense of identity?
The two filmmakers decided to return to the small town and film these teenage girls for a year.

CUSP, sexist culture

After several months, as the girls courageously opened up about their various experiences of sexual assault, Isabel Bethencourt and Parker Hill realized that each of the girls had been in a sexual situation to which they had not consented at a very young age, whether with boys they knew or with adult men. This seemingly invisible pattern of permissive behavior and toxic masculinity propelled their report into an investigation of the relationship between overt acts of sexual violence and the everyday normalization of a gender-based culture in which these girls live.
Rape is the least reported serious crime in the U.S. - 80% of these crimes go unreported, and rape survivors are 50% more likely to suffer from PTSD (post-traumatic stress disorder) than soldiers returning from war. While many films are made about the 20% of courageous women who report rape, CUSP puts faces to the experience of these 80% - teenage girls who wake up every day trying to be children like others, who silently suffer a trauma compounded by the unequal culture that is beginning to be recognized in the US - a culture of coastal states in contrast to other states. Once the assaults are normalized, laughing at or even participating in a sexist joke is in continuity. The competition between girls for the power they can find only perpetuates a sense of uselessness.
CUSP, women's awareness

Filming a year in the girls' adolescence is an adventure, but also a field whose exploration and understanding fascinates both filmmakers. Growing up and sharing formative stories with close friends, Isabel Bethencourt and Parker Hill realized how common their past experiences were. In some ways, being a girl was so treacherous, so isolating, that they thought they were the only ones struggling to cope. "Without having seen mirrors of our experiences, we and many others are left feeling alone and misunderstood. As filmmakers and women, we recognize that representation in art and culture has the power to give young girls affirmation that their experience is valid and worth talking about, especially when it comes to sexual assault.
We sere lucky enough to meet these girls in the middle of the night, and have them entrust us with their stories. We realized that if we didn't listen to them, nobody was going to. Our subjects are more than their pasts they weren't able to control, and when others watch the film, they will connect with them and hopefully feel less alone in this world too."

CUSP,

"It can be difficult to explain and fully understand the stakes of teenage girl drama, especially as most of them tend to hide or swallow what they're going through. From body language to expressing personality on the walls of their bedrooms, we invite you into this world with the familial intimacy they find in each other. With deliberate framing in verité scenes, you can feel the years of comfort between the girls as they lounge on each other, legs intertwined on the bed and huddled around someone's phone. The camera remains steady as the contrast to our animated and fearless subjects. The longer we observe their interactions, the more subtle characteristics we notice", say Isabel and Parker.

CUSP, the reality of our societies

At a time when the rural culture of the southern United States is becoming increasingly disconnected from the coastal reality of the United States and the effects of a toxic masculinity are finally beginning to be examined, one cannot help but notice that boys are still the subjects in front of the camera and in the foreground of the conversation. Isabel Bethencourt and Parker Hill finally shine the light on the other side, the one that this toxicity affects: the often neglected lives of teenage girls.
"The film's observational style uncovers daily moments and microaggressions of rape culture. As everyone participates in perpetuating and normalizing this behavior, the lines get blurred about how things have to be. As Brittney puts it, "that's just the way it is around here, I can't change it." In capturing a piece of teendom, we can already see the ways in which this kind of thinking at sixteen impacts the girls' development, potential, and self worth."

CUSP in France and around the world

As a French person, I don't look at CUSP as a voyeur of American society. The insecurity of girls and teenagers unfortunately concerns the whole world, including France :
The French are 67,000,000. According to Interstats No. 24 of January 2020, of the French Ministère de l'Intérieur, the number of sexual assaults recorded in France in 2019 on persons over 14 years of age is 54100, including 22900 rapes and 31200 sexual assaults, or nearly 63 rapes per day and more than 85 sexual assaults per day in France alone.
However, according to the French ONDRP - National Observatory of Delinquency and Penal Responses - the rate of complaints of rape or attempted rape is estimated at only 22%, almost the same figure as in the United States.
On the other hand, the time lag between the date of recording of the events by the security services and the actual date of the event (or the beginning of the event) is particularly wide for sexual violence. The median time for recording complaints is much higher among child victims than among adult victims. Similarly, the median time taken to register complaints is higher for rape victims than for victims of other sexual assaults. For example, 50 percent of complaints of rape of adults filed in the third quarter of 2019 were filed 70 days or more after the date of the rape. This figure amounts to more than one year (409 days) for victims of rape of minors ― still French statistics.
This delay shows the extent of the trauma of victims of sexual violence or rape. I could not find the duration of this delay for people who do not reveal such assaults suffered in childhood, in adulthood: there, it can take up to thirty years.

I would like to thank Isabel Bethencourt and Parker Hill for creating and directing the CUSP documentary, as well as Naomi McDougall Jones and THE 51 FUND for giving me the opportunity to participate modestly in this beautiful project.©
Gabrielle Dubois

Gabrielle Dubois is a novelist and a Founding General Partner de THE 51 FUND ― producer of films written and directed by women.

#sundance #the51fund #cusp